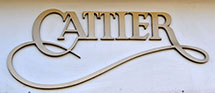 Cattier
Verzy France
Armand de Brignac Contact Information
Address
Armand de Brignac/Champagne Cattier
6/11 Rue Dom Perignon - BP 15
51500 Chigny Les Roses - France

Website
http://armanddebrignac.com/
http://www.cattier.com/
Visitor Information
Please contact Champagne Cattier directly for information regarding visits,
(33) 03 26 03 42 11 (telephone), or through their websites. Cellar tours are not open to the general public.

Related Subjects
Their Champagne Collection
Our Armand de Brignac report contains a selection of recent champagne offerings along with reviews and ratings.
About Armand de Brignac
Our About Armand de Brignac report includes general information about the champagne house and their key people.
Official Website
The official website is http://armanddebrignac.com/.