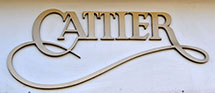 Cattier
Verzy France
Armand de Brignac and Key People
Pronunciation
arman de bree-nyak

Type of Producer
Grapes for Armand de Brignac production are acquired from growers throughout the area including the Vallee de la Marne, the Montagne de Reims and the Cote des Blancs. The French regulators designate Armand de Brignac as a Negociant Manipulant (a producer who buys grapes from growers).

Overall Producer Style

The Armand de Brignac style is typically fruity, smooth and consistent. The rose' provides more fullness than the other labels. The champagne is ready to drink upon release.

Annual Production

More than 3200 cases per year. Actual production numbers vary.
Armand de Brignac's Key People
Current Owner
The Armand de Brignac champagne brand was introduced in 2006 by Sovereign Brands in partnership with Champagne Cattier, a family owned company. Sovereign Brands announced in early November, 2014 that they sold the brand to a new company led by the rapper Shawn "Jay Z" Carter.

Chef de Cave
Jean-Jacques and Alexandre Cattier (father and son)
The Cattier family has owned land in Champagne since 1763. It started making champagnes under the Cattier family name in 1918. The Armand de Brignac label was introduced in 2006.
CEO/President
Undisclosed.
Related Subjects
Their Champagne Collection
Our Armand de Brignac report contains a selection of recent champagne offerings along with reviews and ratings.
Contact and Visitor Information
Contact and possible tour information can be found in our Contact Armand de Brignac report.
Official Website
The official website is http://armanddebrignac.com/.