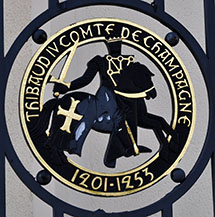 Taittinger Crest
Taittinger and Key People
Pronunciation
tet-ahn-zhay

Type of Producer
Taittinger has more than 700 acres of vineyard land for their champagne production but they also purchase about half the grapes used in production from other growers. The French regulators designate Taittinger as a Negociant Manipulant (a producer who buys grapes from growers).

Overall Producer Style
The typical style for Taittinger champagne is light, elegant, fruity and floral.

Annual Production
Five to six million bottles are produced annually. Actual production numbers vary by year.
Taittinger's Key People
Current Owner
Family owned (repurchased by Pierre-Emmanuel Taittinger in 2006 from Starwood Capital).

Chef de Cave
Loïc Dupont (since 2000)
Loïc Dupont earned a Baccalaureate degree in science at Reims then served in the Air Force. He returned to Reims and received a National Diploma in Oenology at the Reims University. He managed sparkling wine facilities in Northern France and the Ivory Coast in west Africa. In 1984 he returned to Reims and began working at Taittinger. He was an advisor during the creation and launch of Domaine Carneros in California.
CEO/President
Pierre-Emmanuel Taittinger
More On Taittinger
Their Champagne Collection
Our Taittinger report contains a selection of recent champagnes along with reviews and ratings.
Contact and Visitor Information
Contact and possible tour information is located on our Contact Taittinger report.
History
A history can be found on our Taittinger History report.
Official Website
The official website is http://www.taittinger.com.