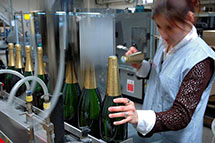 Modern Bottling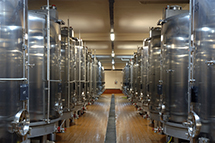 Stainless Steel Tanks
Post World War 2 and Recent History
Slowly the aftereffects of the 2nd World War began to disappear. Champagne Houses finally began to expand by the mid 1950s. Ups and downs have continued to this day, but they have been less dramatic than the disasters of the past. Recent obstacles include occasional crop failures, the incorporation of the VAT (Value Added Tax) in 1968, economic recessions, fuel shortages in the mid 1970s, etc., but Champagne has generally been quick to come back from declines such as these. It is understandable that the Champenois at times appear to be a little pessimistic, but they are always tenacious.
The basics of the traditional method of production (methode champenois) have remained the same for centuries, but the process continues to evolve even today. Many innovations such as automated disgorgement and corking, girasols / gyropalettes for riddling, advancements in cork stoppers to minimize faults have continually modernized the process.
There are many other significant incidents that are part of the industry's history, too many to cover in this brief overview. Overcoming other wars, disasters and plagues such as the Cholera epidemic in the 1830s have been a way of life. The bottom line is that the Champenois have faced many adversities and have managed to come back even stronger than before, even in the midst of many power struggles and disagreements amongst themselves.
In addition to this snapshot of the overall history of 'la Champagne' and 'le champagne', each individual house has history all its own. Some of the key players over the years have been Veuve Cliquot, Bollinger, Krug, Roederer, Moet and many more. For a more comprehensive understanding of the history of champagne, refer to the history web pages of the individual houses.

Related Subjects
More about Champagne History